Budapest
Oh, Budapest… My favourite city in the World!
I've lived in Budapest during my Erasmus + traineeship from January to July 2015. It was definitely the best 7 months of my life.
Budapest is described by the Brazilian author and singer Chico Buarque as the "yellow city", and it is true: everything is yellow, the Danube river, the lights… That's one of the reasons why I love the city, as yellow is my favourite colour. The city is full of beautiful and nice people, good food, a lot of culture and an incredible atmosphere.
About the Hungarian people… They are very cold and sometimes they can be very xenophobic. But when they know you and like you, they can be the loveliest people. People always have a love/ hate relationship with the Hungarians, but I can't complain at all. I've got very good friends in Hungary and I am thankful everyday for meeting them!
The currency in Hungary is the HUF (Hungarian Forint) and the language is Magyar, the 5th most difficult language in the world.
Here are some useful words:
Szia | Hello or goodbye
Jó reggelt | Good morning
Köszönöm | Thank you
Igen | Yes
Nem | No
Egészségedre | Cheers
Where you can stay
There are a lot of nice Airbnb's and hostels in Budapest. I can advise you some, where I've stayed before:
Careful when booking hostels. If you're into partying it's alright, but if you're into relaxing and silence pay attention to comments and location because some of them turn into clubs at night.
Getting around
From the airport: there is a BKK stand in the airport where you can ask for metro lines map and buy your tickets. To get to the city centre, catch the 100E bus that will take you to Kobanya-Kispest metro station and then from there go wherever you need. There is also the 200E that goes directly to Deák Ferenc tér.
You can definitely walk everywhere within the city centre and it will take you a maximum of 45 minutes to reach. If you don't fancy walking that much, you can buy a travelcard for the days you're in or if you have a student card you can buy the monthly pass for students which costs you 3450HUF, so around £10 and you can travel anywhere using any public transport, including the BKK ferryboat (D11, D12 and D14), running daily, allowing you to go on a low cost sightseeing tour on the Danube. A single ticket costs 750HUF, but if you got a BKK pass you can travel for free during weekdays.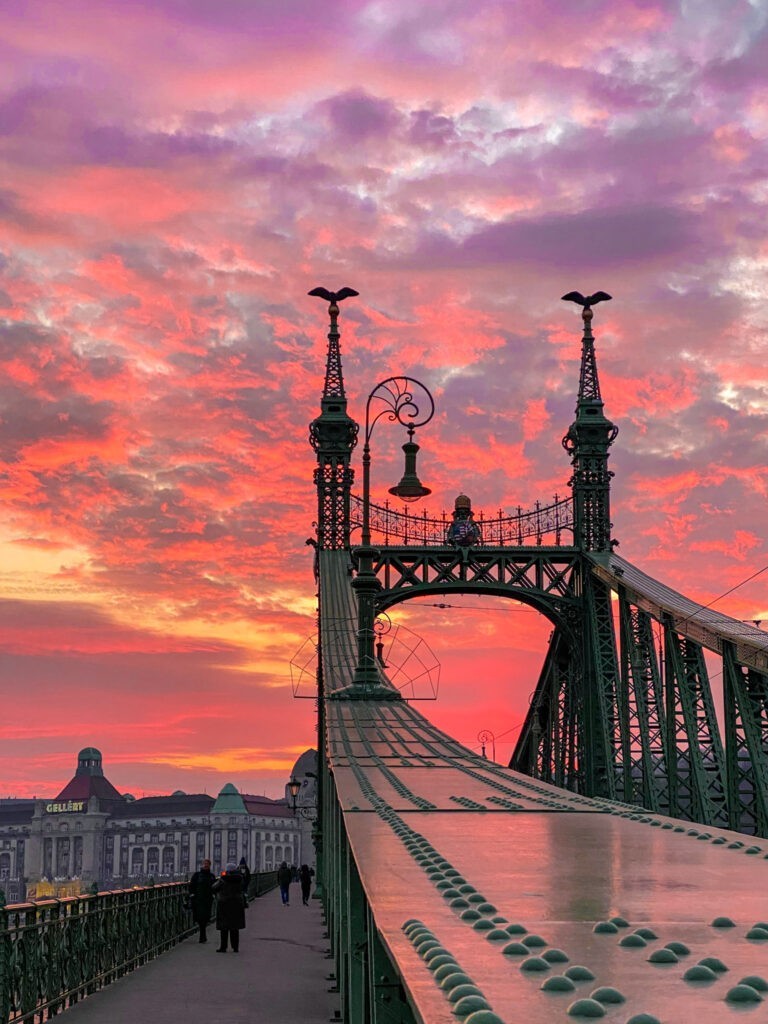 I would advise you not to travel in any public transport without a valid ticket. The ticket checkers are everywhere and the fines are heavy!
Things to do
My favourite building ever, one of Budapest's highlights, the Hungarian Parliament, can be visited outside and inside (tickets can be bought in advance here). Did you know that this is the third largest parliament building in the world, after the Pentagon and the Bucharest Parliament, and that it is the seventh most visit landmark in the whole world? Just next to it, there is the Shoes on the Danube monument, below the parliament by the riverside promenade. This was built in 2005 to honour the Jews that were killed in Budapest during the World War II. Photographic tip: if you want a good photo of the Parliament, just cross the Danube by catching the metro from Kossuth Lajos Tér to Batthyány Tér and enjoy the amazing view!
If you are into museums, there's the Hungarian National Gallery, House of Terror and the Hungarian National Museum. There is a lot more which I haven't been, but I would definitely recommend this 3. If you're lucky, on the 1st or 3rd Saturday of the month some have free entry.
Climb the Gellért Hill, enjoy the view and then relax on the Gellért Thermal Bath, my favourite and also the most expensive. If you want to go more low cost, there's Rudas, Király, Lukacs or the famous Széchenyi Baths (first photo on the gallery below). Click on the links above for the official websites with updated prices.
Close to the Széchenyi Baths you can find the Heroes Square and just next to it there's the amazing Vajdahunyad Castle. During winter, there is also Europe's biggest natural ice rink, Városligeti Műjégpálya. Worth a visit!
Visit the Castle Hill and the Fisherman's Bastion and if you have time, repeat it at night, so you can see the lights of the city. Don't go later than 1am as the lights turn off by that time. If you are feeling lazy to walk there, you can always take the bus 16 from Déak Ference tér.
Check the St. Stephen's Basilica and enjoy the panorama view from the cupola. Tip: there is a lift if you want to avoid the stairs.
Walk around the Jewish Quarter (loads of nice street art) and visit the Synagogue, the second largest in the World.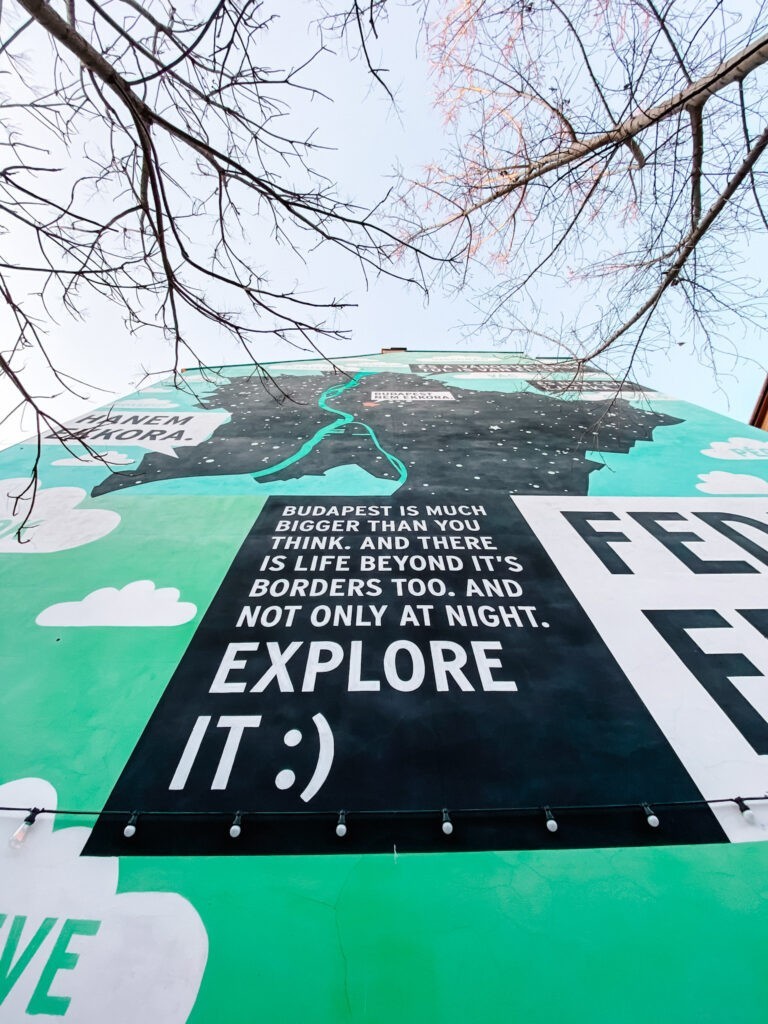 Did you know that the famous Escape Room game started in Budapest? Why not giving it a try? You can try Exit Point, Escape House or Parapark, the first escape room ever, and many others.
Do yourself a favour and visit one of the most beautiful libraries in the world, Ervin Szabó. To visit the library as a tourist there is a new fee of 1500HUF paid in cash.
If you like opera and ballets, there's a show almost everyday and the tickets are very affordable, especially for students. Hungarians are very good at opera singing. You can also visit the Opera House which is very beautiful. I visited it while going on a show.
2020 update: The Opera House is currently closed for restoration.
Margaret Island is a nice place for a quiet walk, run or bicycle ride. You can also enjoy the musical fountain show from March until October at 10:30am, 5pm, 6pm, 7:30pm and 9pm.
Take a ride on the iconic tram nº2 from Margaret Island to Fövám tér (where the Market is) and enjoy the views.
On the Great Market Hall you can find a lot of tradicional food and the best and cheapest souvenirs. If you enter through the main door, there is a stand with delicious biscuits (and yes, the famous Portuguese húngaros biscuits come from Hungary) that you should definitely try. Sausages and typical smoked meats are delicious as well. You can also try the tradicional Pálinka (fruit brandy) or the herbal liqueur Unicum.
One of my favourite places to go and where you can also enjoy a good meal and drinks is a riverside kind of beach club called Fellini Római Kultúrbisztró, which is open from the 1st of May to the 1st of October. You can take the ferryboat from the centre and enjoy the views of the Danube.
If you have time and when in Summer, take a day trip to Lake Balaton, the largest lake in Central Europe. Don't forget to bring your swimsuit and beach towel! You can catch the train from Déli Railway Station and then you can visit the lake. Usually to get into the water, you usually need to pay if you go in a private beach, but it's like £1. I recommend Siófok, Balatonfüred, Tihany, Keszthely and Fonyód. In the Summer, you can get around the lake by ferryboat.
Where to eat/drink
My favourite place for breakfast/snack is Ahoy Cafe. They simply have the best hot chocolate and the owner is extremely friendly.
The Donut Library has the best donuts in town.
Drum Cafe, where you can try typical Hungarian food for a very affordable price. Try their goulash soup.
Bors Gastro Bar, where you can try delicious soups and sandwiches. (Gordon Ramsay also likes it a lot!) MY FAVOURITE!
Trofea Grill, if you feel like all you can eat kind of thing.
Paprika Vendéglő, a typical hungarian restaurant recommended by locals.
If you fancy ice cream, try Gelarto Rosa just by St. Stephen's Basilica. Ask for happy end and they will put Nutella inside the cone.
You can find some nice restaurants and bars at Gozsdu Udvar, including 2 Spaghi and Pad Thai Wok Bar.
If you are more into fancing dining, I totally recommend Costes Downtown, the first Michellin-star restaurant in Hungary, led by a portuguese chef. Dining here is something that I will never forget!
360 Bar is a rooftop bar with amazing cocktails and beautiful views over the city. You may need to call them to book in advance. During the winter, they are well known for their igloos.
If you like going out, here are my favourite clubs: Morrison's 2 with thematic nights, Instant-Fogas Komplexum, The Hive, Vicky Barcelona (if you are craving for some reggaeton) Heaven, Story, Romkert, and the one and only Szimpla Kert. Budapest is full of nice ruin pubs, so just get lost around and enjoy the nightlife.
I have so many other things to tell you about Budapest and Hungary, but I think that's enough for now. I hope you'll love Budapest as much as I do!
If you have any suggestions or if you want to ask me something, just leave a comment here.
With love,
Mafalda Sousa